13th IEEE International Conference On Control System, Computing and Engineering
CALL FOR PAPER IEEE Xplore® proceeding HYBRID ENVIROMENT CALL FOR REVIEWER
25 – 26 August 2023 | Penang, Malaysia
Why Choose our conference?
The IEEE Control Systems Society (CSS), Malaysia Section Chapter is pleased to announce the 13th IEEE International Conference on Control System, Computing and Engineering (ICCSCE2023) that will be held on the 25 – 26 August 2023 in the state of Penang,Malaysia.
This event provides an excellent platform for knowledge exchange between researchers, scientists, academicians and engineers working in the areas of control system, computing and related engineering fields. The conference also offers all participants the opportunity to collaborate and to be a part of the latest technological developments in control system and computing, to network with researchers in these areas and to remain competitive in the fourth industrial revolution (IR4.0).
Note that the proceedings of ICCSCE 2022 and earlier ICCSCE proceedings are available in IEEE Xplore and successfully indexed by SCOPUS.
Count Down Conference Day
Schedule program (Updated)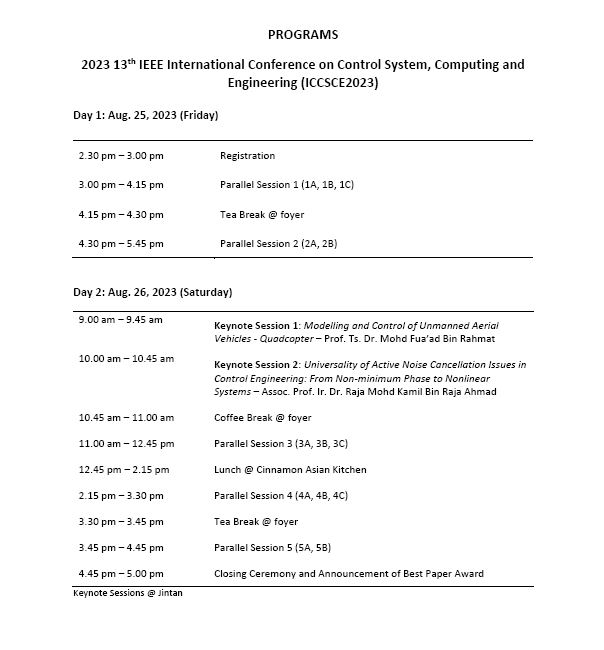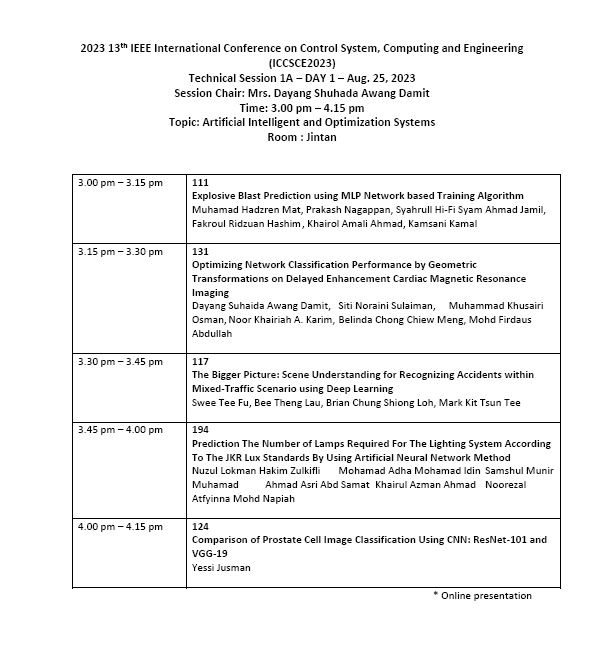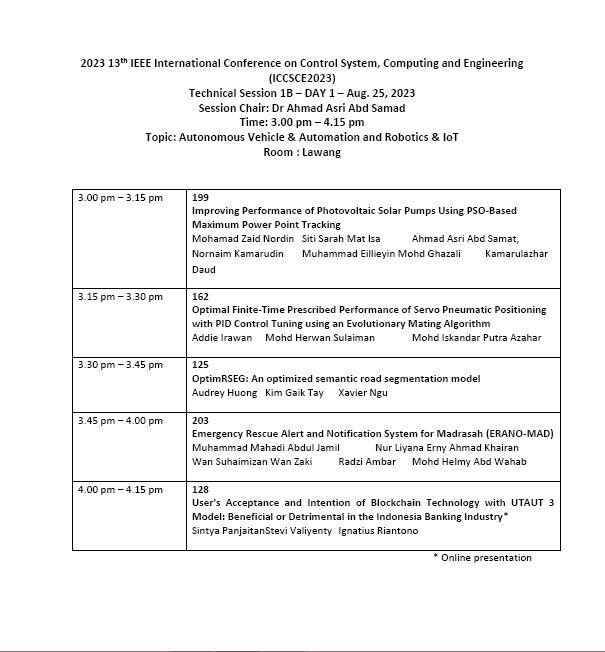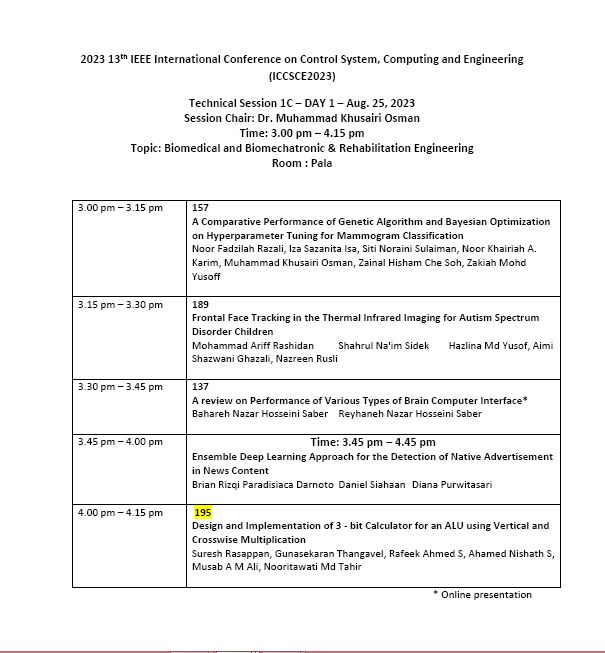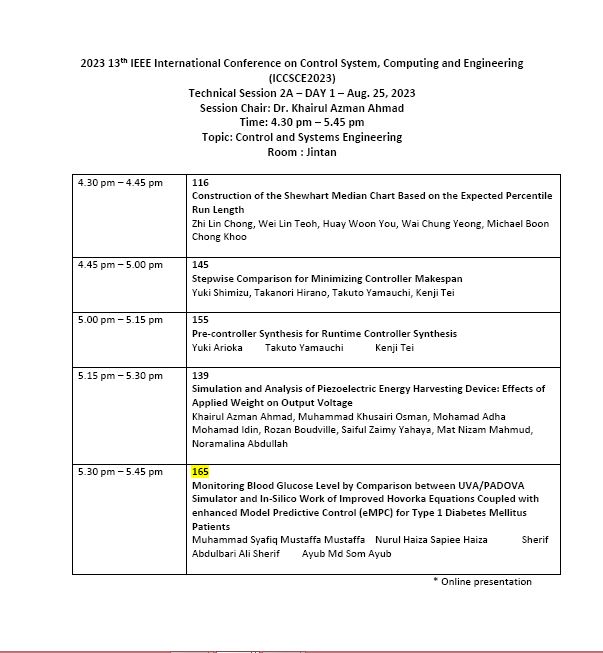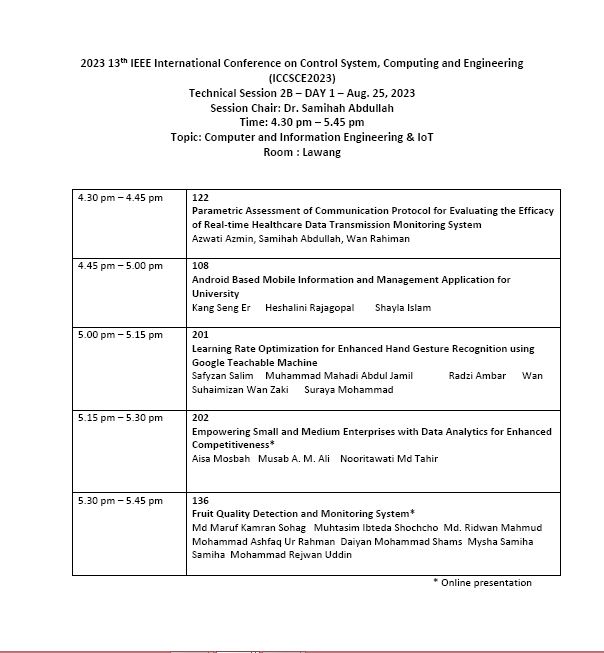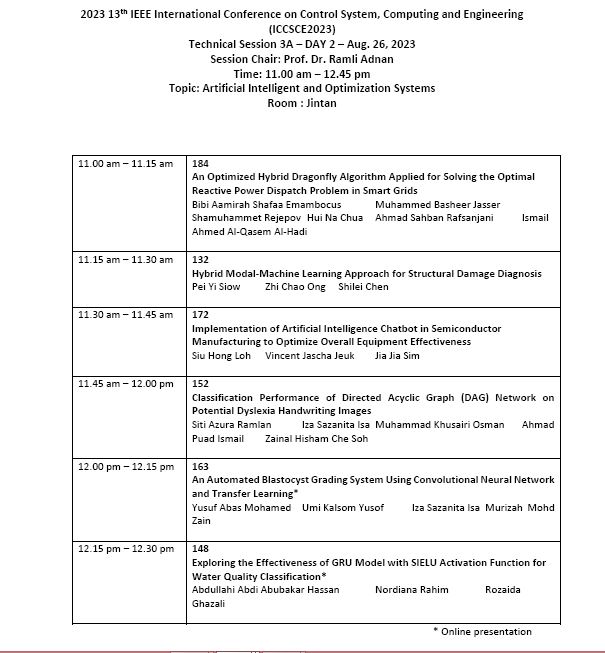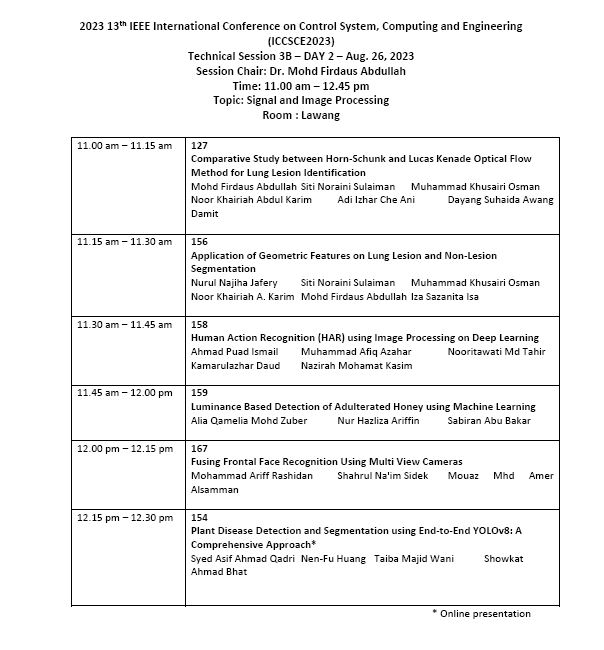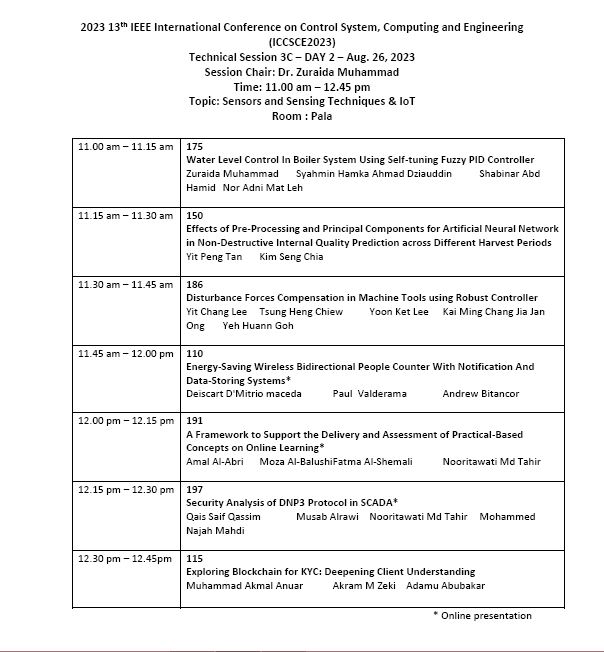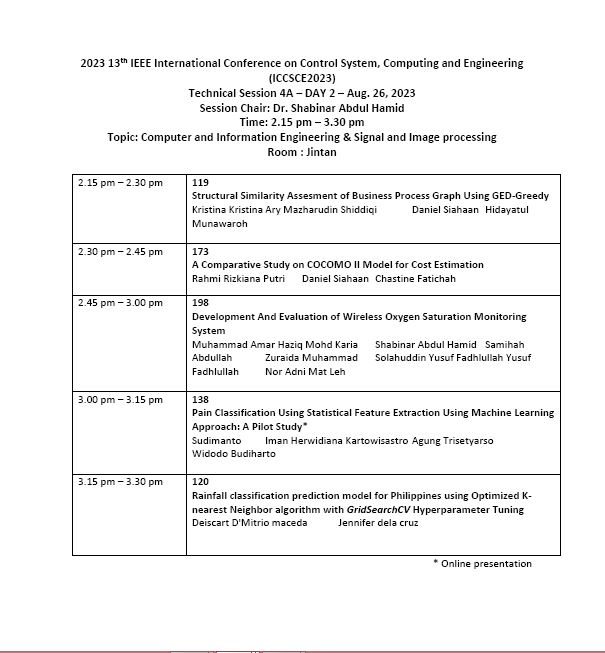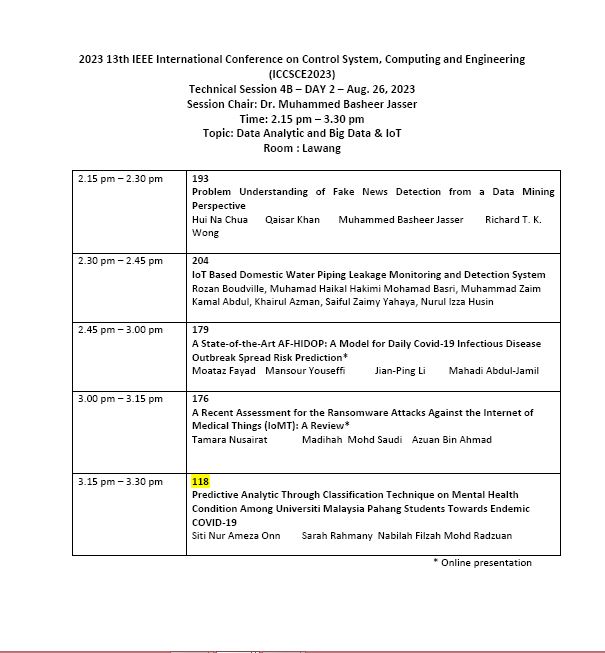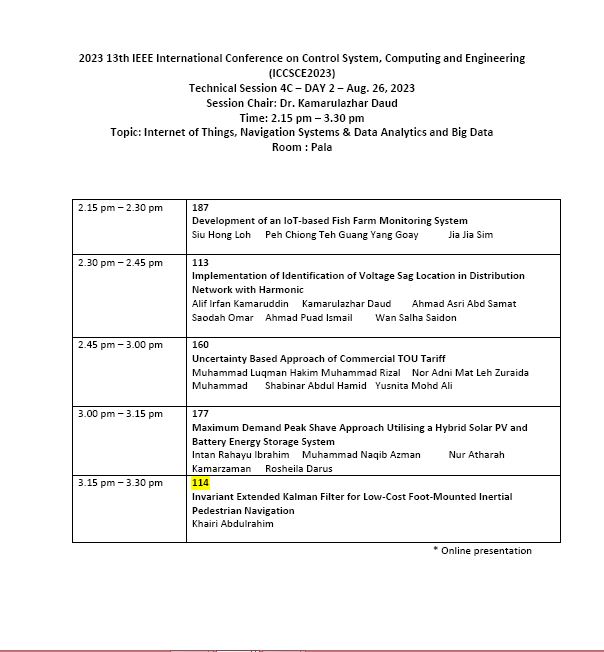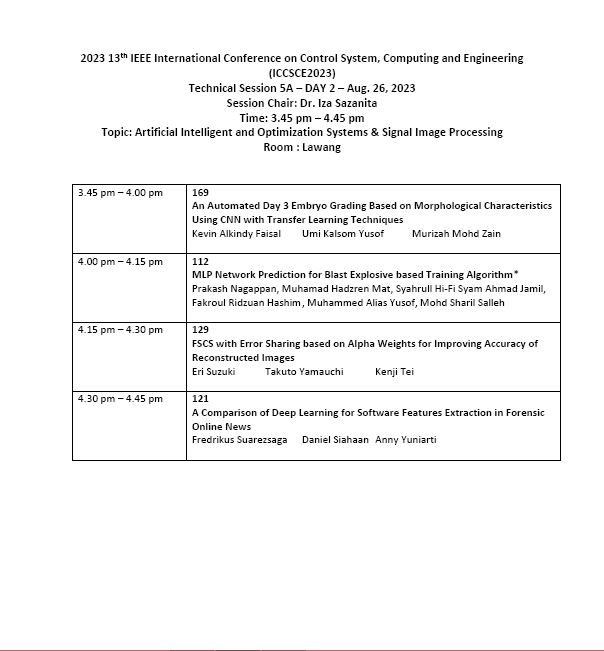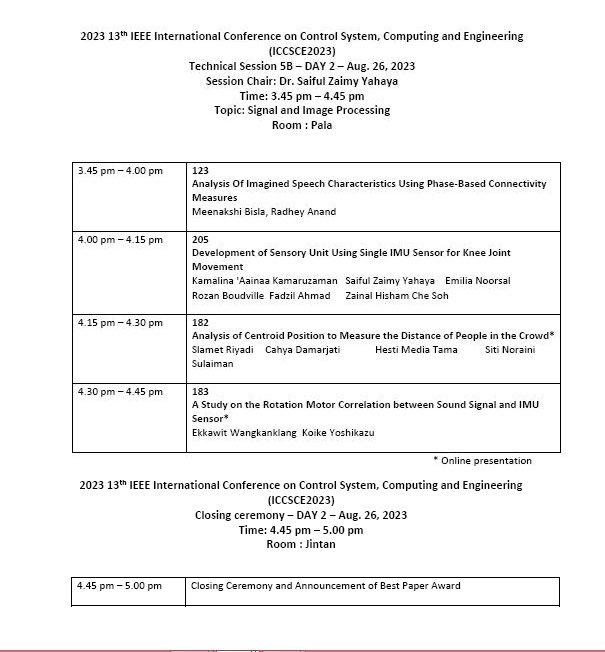 Submission of original, unpublished papers are welcomed including but not limited to the following technical areas
make your work easier and faster!

Control System Pro
+Control and Systems Engineering +Automation and Robotics +Sensors and Sensing Techniques

AI & DATA PROCESSING
+Artificial Intelligent & Optimization Systems
+Signal and Image Processing
+System Identifications

Computer Pro
+Computer and Information Engineering
+Data Analytic and Big Data
+Internet of Things (IoT)

Biomedical
+Biomedical & Biomechatronics +Rehabilitation Engineering +Bioinformatics

Autonomous & Navigation
+Drone Technology & Applications +Autonomous Vehicles
+Navigation Systems

previous and current picture image moments
Get your CALL FOR PAPER (CFP).
make your work easier and faster!
The conference fee structure for ICCSCE2023 as follows:
| | | | | | | |
| --- | --- | --- | --- | --- | --- | --- |
|  Participant |  Local (F2F) |  Local (F2F) |  Overseas (Virtual) |  Overseas (Virtual) |  Overseas (F2F) |  Overseas (F2F) |
|   | IEEE |  Non-IEEE |  IEEE |  Non-IEEE |  IEEE |  Non-IEEE |
|  Student Registration | RM950 | RM1150 | USD200 | USD250 | USD300 | USD350 |
|  Normal Registration | RM1500 | RM1800  | USD300 | USD350 | USD400 | USD450 |
|  Attendee | RM 300 | RM 300  | USD50 | USD50 | USD100 | USD100 |
All fees are inclusive of registration and proceedings materials.  The fees are exclusive of bank transfer charges.
Payment and registration can be done at website.
LATEST UPDATED ! REDUCED COMPETITIVE FEE ! SUBMIT YOUR PAPER NOW !